Water Softener Installation and Replacement
Most homeowners who live in the rural areas today often have water that contains excessive amounts of minerals. Such minerals are the cause for what we call 'hard water' in households and usually from soap scum when washing dishes.
By introducing a water softener to your home's water system, you will decrease the buildup of mineral effectively which can save your pipes and fixtures. Aside from that, a water softener system also helps in making washing easier, while extending the lifespan of a home's plumbing system.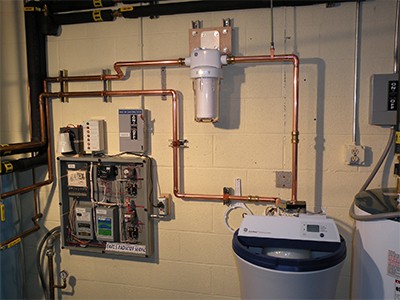 How Does a Water Softener Work?
Most homeowners living in the surrounding areas of the city have water that contains excessive amounts of minerals. By getting a water softener installation service, a tank that is filled with salt to get rid of the minerals found in the water will be installed at your home.
Every time water goes through these salts, the sodium ions in them will be absorbed by the calcium and magnesium minerals and trap them in the tank. This ensures that the water that enters your plumbing system would be pure and free from any of these minerals.
What Makes Hard Water Harmful?
A water softener service in the East Bay area is important to homeowners because it will help prevent damage caused by hard water to many things in your home. Two of the main issues are mentioned below:
Whenever soap comes in contact with hard water, it will create a grimy film that makes it hard for the dishwasher to get rid of. Hard water also makes it harder for the soap to lather, which means that your clothes and dishes won't be fully cleaned afterwards.
This is a film that will develop on your plumbing devices as the minerals in the water are precipitated out. The scale can build up on your pipes, fixtures, faucets and even water heaters to cause damage to them in the future. This is possible because it corrodes such appliances and will require them to be replaced years before they should be.
How Will I Know If I need a Water Softener?
You can benefit a lot from a professional water softener service if you experience any of these issues at home:
Having a hard time lathering soap
There are yellow stains on your clothes after being washed
You notice scale build-up on appliances and fixtures
Water tastes bad and smells the same

We at Plumbing Care, Inc. provide you with honest recommendations and advice to help you choose whether a water softener replacement or installation is needed. It is our great joy to serve people in the the East Bay area area by providing them with quality customer service and plumbing skill when needed.
You can give us a call now to start having a water softener installation done to your home and save your appliances and fixtures from damage.
Have us contact you today
2415 San Ramon Valley Blvd Ste 4365 San Ramon CA 94583
Mon - Fri: 7am - 7pm
Sat - Sun: 8am - 5pm
plumbingcareinc@gmail.com
**Emergency Services are available 24 hrs with a $175 emergency service fee plus the cost of the service.