Plumbing Care, Inc. provides excellent commercial plumbing services in the the East Bay area area today. Our main goal is to provide our clients with exceptional service, knowledgeable professionals and affordable rates.
The professional staff we provide to you are people who have been in the plumbing industry for many years and through their deep experience, have redefined the art of installing and maintaining water systems. Every technician that we send to you will perform a thorough examination of your problem, whether it needs repair or an entirely new installation while providing expert opinion on the matter. We at Plumbing Care, Inc. have a proven track record as a reliable commercial plumbing company in the East Bay area, and we strive to uphold this through honest customer service.
Our company can provide you with all types of plumbing services you can think of from water heater repair to re-piping to emergency plumbing when needed. When you need reliable commercial plumbing service in the East Bay area, we've got you covered with highly qualified technicians. All of the tools, resources and techniques are at our disposal to solve your issues. Aside from that, Plumbing Care, Inc. is fully bonded, insured and licensed so you know you're in the hands of capable professionals.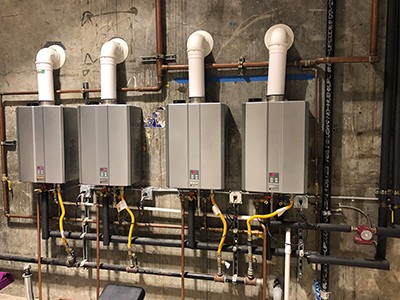 The Importance of a Reputable Commercial Plumbing Provider
Having a reputable commercial plumber at the ready for your business isn't only a good idea, but it is also a necessity to ensure your company stays afloat in case of emergencies. If your company needs access to water consistently, then it would be in your best interest to have a trustworthy commercial plumbing company on speed dial.
How to Know Good Plumbing vs Bad Plumbing
Based on our experience in the field we have seen a number of jobs that were done by "cheap labor" but the problem with that is that cheap labor almost always comes with a cost much higher than anticipated further down the line. We have seen standard water heater replacing direct vent water heaters which led to carbon monoxide poisoning in the customer's home. We have seen earthquake shut off valves, installed but not properly working. We have seen misfires on tankless units for improper installations that voided the 12 year warranty! We've come across flood damage from insecure water pipes and just overall poor workmanship. This is bad plumbing but you won't always know it right away until disaster strikes.
IT IS IMPORTANT TO GO WITH A REPUTABLE, LICENSED CERTIFIED, RESIDENTIALLY & COMMERCIALLY INSURED PLUMBER.
We understand that this is not always the immediate cheapest option but you will be rest assured that the work is done properly & safely. Considering a plumbing company with a good reputation matters because in the unlikely event that there is something wrong or even a question you have we can come back right away – and we will.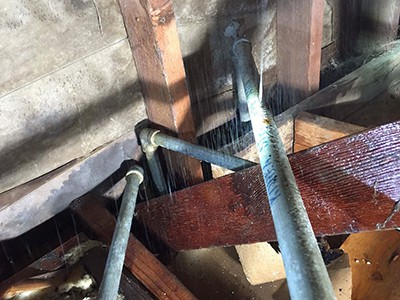 Businesses That are Most Affected by Plumbing Issues
Although most businesses today should have an expert commercial plumber's number, there certain businesses that need to make this a high priority. Failing to get in touch with a trustworthy plumbing company immediately can spell disaster for such businesses.
The washing of utensils, cooking various meals, or even simply going to the washroom won't be possible for businesses in this industry if a constant supply of clean water is not available. Aside from that, businesses in this sector rely heavily on their water systems to continue operations.
Establishments in this industry rely on consistent and clean running water. Hotels that are not able to provide their guests with working toilets or hot showers will quickly lose business and be forced to recompense. Moisture leaks in a hotel can result in it being forced to shut down and lose its reputation.
Facilities in this sector rely on constant water supply. From keeping things sterile to helping elderlies wash up, any medical facility would want to keep their plumbing systems working at all times.
How to Find a Respectable Commercial Plumber

Relying on word of mouth can help you get in touch with excellent plumbers, but you also don't have to worry if you don't know anyone who can recommend a commercial plumbing company in the East Bay area. You will know that a plumber is respectable if they are happy to provide you with references, answers and knowledge with regards to plumbing.
Plumbers that aren't interested in engaging with you may not be confident with their skills for a good reason. A trustworthy commercial plumbing company takes repair and maintenance issues seriously and will back their opinion with years of experience on the job.
Get a Commercial Plumbing Service in the East Bay area Today
If you want to make sure that your business is safe from disasters which can cost thousands of dollars, it is imperative that you find a commercial plumber you can rely on. Minor leaks and plumbing issues can effectively mean the end of a profitable year for your business if you don't get an assessment from a quality plumber right now.
Clients and customers who are annoyed with poor plumbing systems can cost any business more than they might expect right now. It won't take a lot of leaks to bring in pests or damage that can be the cause of a massive plumbing issue that can cost you a lot.
For those that need commercial plumbing services on hand, we have staff that are ready to assist you around the clock. Plumbing Care, Inc.  has the professionals ready to answer questions and head over to your location when you need them. It would be in your best interest to have an emergency checked as soon as you notice something different rather than wait for it to get worse.
When you work with our company, you will find the best quality plumbing service in the East Bay area at competitive prices. We know that businesses are always on a budget and that is why our technicians can give you an accurate price range that will work for you.
Plumbing Care, Inc. isn't here to break your bank but to provide you with reliable plumbing services that will accommodate you and your business' needs.
We're happy to answer any questions or concerns you might have. Contact us now!
Hear What Our Happy Customers Have to Say!
Have us contact you today
2415 San Ramon Valley Blvd Ste 4365 San Ramon CA 94583
Mon - Fri: 7am - 7pm
Sat - Sun: 8am - 5pm
plumbingcareinc@gmail.com
**Emergency Services are available 24 hrs with a $175 emergency service fee plus the cost of the service.