24 HOUR RESIDENTIAL & COMMERCIAL PLUMBING
A fully licensed, insured and bonded plumbing company meeting & exceeding state requirements.
Serving Contra Costa & Alameda Counties
EMAIL US YOUR REQUEST/INQUIRY TODAY
COMMERCIAL & RESIDENTIAL PLUMBING SERVICES IN THE EAST BAY AREA
Why Should You Choose a Professional Plumber?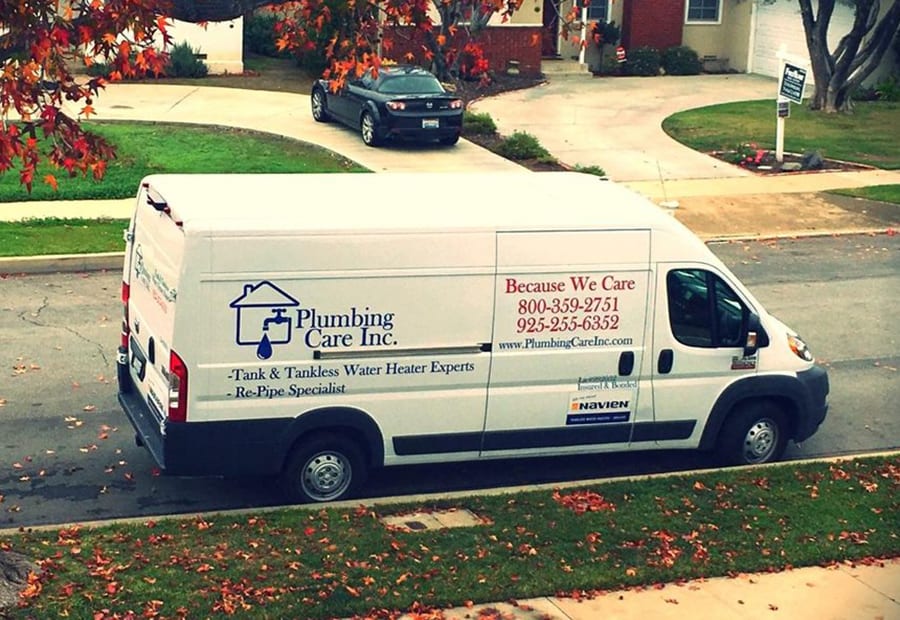 Plumbing Care, Inc. specializes in commercial and residential plumbing needs as the premier plumber in the East Bay area.
For our residential plumber customers, we offer water heater installations, water heater repairs, tankless water heater installations. We specialize in all core plumbing, repipes, new construction, toilets, faucets, sinks, dish washers, garbage disposals, water softener installations, reverse osmosis filters, instant hot water dispensers, on demand water heaters & all of your plumbing needs.
To meet the needs of our commercial customers we are BACKFLOW certified, Navien, Rinnai & Noritz licensed and trained. We specialize in custom commercial boiler systems, Rinnai Rack systems,  and can build a hot water system to meet the special needs of your property.
We work directly with the manufacturer's engineers in developing the commercial boiler or tankless system based on your buildings needs.
We guarantee the quality of our work and can help you protect your plumbing system, investment and family, with environmentally conscious water solutions that make sense.
Need the help of a trustworthy residential plumbing company in Alameda & Contra Costa County
Hear What Our Happy Customers Have To Say!
Dimitry replaced our garbage disposal in 2017. We were impressed that he discovered the shoddy workmanship of the plumber who had been there before. We had it replaced just a few years before, but it was already leaking. We were wondering why? He noticed that the previous plumber had used the wrong sized tubing.This month our toilet broke. We tried to repair it ourselves, which resulted in a cut on the hand and flood in the bathroom. We finally had the sense to call Dimitry. Thank goodness! He came on short notice and fixed both the toilet and the leaking angle stop. He gave an accurate estimate, and was friendly, professional and efficient. He explains all of his work thoroughly! He will be our go to from now on.
Best plumbing company in San Ramon by far. I called for a service at 10 pm. Martin returned my call in 5 mins and was at my home the next morning at 9 am like he promised. My Navien tankless water heater was not producing hot water. I needed a new water valve regulator and Martin had the right part in his van. The total repair took only 30 minutes and he also examined the entire unit to make sure everything was working properly. Martin showed me the defective part and knew exactly what to do. Martin charged me for labor but not for the part since Navien has a 5 year warranty on parts. I will definitely be calling them in the future since they are local and give prompt courteous service and very honest. Thank you Martin!
Dimitri from Plumbing Care came promptly and replaced our leaky water heater. The unit was old and when taken off, was rusting. All done in about an hour or so! Very prompt and decent service.
Plumbing Care does excellent work and provided beyond excellent customer service. They added new plumbing to our addition and integrated it into our existing plumbing. A team of experts came and looked over our plans ahead of time so we they would know what materials and tools would be needed. They cleaned up after their work. We changed our minds a few times about he placement of the plumbing and they came back immediately to meet our needs at no additional cost.I definitely recommend them for your plumbing needs.
Dimitri was excellent in quality of his work, quick communications, and prompt availability. He went above and beyond in not only taking care of the work he was asked for but to even to fill in for essential tasks that were key in completing every job. We were extremely happy with his work and communications and kindness and would love to work with him again!
The folks at Plumbing Care were AMAZING!!!! I called this morning at 11:00am, their tech Eric was here by 12:00 and the job was completed in under an hour. I was told by another company that I need to have my sewer line cleared. Eric diagnosed the problem as a blocked line in our bathroom, fixed it and even changed the old valves so they wouldn't leak anymore. Delightful, honest service and under $200.Call Plumbing Care, you will be delighted with their prompt, professional and honest service!!
I dealt with Plumbing Care a few times for minor repairs. I found them to be a very friendly and efficient team. Last time they came right after a major leak in my water heater. It was around 6:30 pm. Boyku immediately took charge of the messy situation and replaced the water heater that same evening with a smile. Thank you you are the best!
Send us a message and we will get in touch with you as soon as possible.
A water softener installation done to your home and save your appliances and fixtures from damage.
24-hour emergency HOA plumbing services to ensure that all of your clients and customers are satisfied with your business all the time.
We at Plumbing Care, Inc. can provide you with professional plumbers who can install and fix problems with your Rinnai heater at this time.
We have fully licensed plumbers who can perform toilet, faucet and garbage disposal installation when needed. 
How Can I Find the Right Plumber?

There are many plumbers today that will provide their services to you, and this can make it difficult to choose which one is right for you. But a self-help guy that claims to be an experienced professional may not always get the job done. This is especially true when the plumbing issue is a bit too complicated. Getting a licensed and expert residential plumber can fix your problem once and for all! Here are a few other tips you can do to get the right plumber in Contra Costa & Alameda County you need: ​
Conduct an Online Research
One of the best places that people flock to today for research is the web. It is through this way that you can get in touch with local plumbing companies and the websites that they operate.
You can review their site a little and try to find information such as how long they've been around and what type of plumbing services they offer. For example, do they have residential and commercial plumbing services or only one of these? Aside from that, find one that fixes the type of problem you're facing. If unsure, you can always contact us!
Aside from that, a truly established commercial plumber in Contra Costa & Alameda County has the license and insurance to show for it. This means that the company that will come to your area will also be licensed to give you the best quality plumbing services you need. You won't only be getting high-quality work, but you will also know that they get the job done right even for the first time.
Take Into Account Referrals
There is a lot to learn about a plumbing company by looking at the testimonials and referrals about them. You can do so through their website or through other review sites right now. Asking your neighbors for suggestions can also help. Such sources can give you an idea whether a business is indeed accredited and are able to satisfy their customers.
The next thing that you should do is to clarify the location, availability and how soon they can send personnel to have your water system fixed. The chances are that you are going to need this plumbing issue fixed as soon as possible. That is why you will need to go with a residential or commercial plumber in Contra Costa & Alameda County whom you can rely on to be efficient, fast and affordable with their services. And that's where we come in!
We at Plumbing Care, Inc. know and believe that the time-tested approach of choosing the right time and materials is the fairest way our services can be compensated. This approach of ours avoids the common practice being used by some companies wherein the national averages and higher profit multipliers are being used which make things complicated and usually don't give the value you deserve.
Our plumbers practice good work ethics all the time, and that is why you, the customer, can expect to get a reasonable price for every job you hire us for.
At Plumbing Care, Inc., it is your satisfaction that we are after and is also our main concern. All of our employees work hard to make sure that all of your needs are met in the lowest time frame possible and at affordable costs, whether for residential or commercial plumbing. We never skimp on work quality or materials that we use.
You can rely on us here to provide you with a licensed, insured and bonded plumber that can provide your home or business with the best plumbing services that you are going to need.
If you want to know more about how we operate and how we can help, don't hesitate to give us a call now. We're happy to help answer any question you might have. Contact us now!
EMAIL US YOUR REQUEST/INQUIRY TODAY
Mon - Fri: 7am - 7pm
Sat - Sun: 8am - 5pm
Email:
plumbingcareinc@gmail.com
**Emergency Services are available 24 hrs with a $175 emergency service fee plus the cost of the service.