Are your pipes falling apart? Does your home need to be repiped? Are the small repairs costing too much?
We have the solution for worried homeowners like yourself. We know that repiping a home is the last thing anyone wants to pay for & that's why we offer the most cost-effective long term solution.
Spot repairing a home on old pipes can be costly in the long run & because pipes degrade at more or less the same time it wouldn't make sense to continue spot repairs when another part of your home's piping system could burst a leak shortly after repairing the leak you just had!
So to that we offer TRENCHLESS MAIN LINE replacement. This is a newer technology that allows us to replace the existing pipes in your home without having to break under any concrete slabs or causing any additional damage to your home.
Trenchless pipe replacement is done by gaining an access point to both ends of the pipe and pushing the new pipe inside the old pipe at the same location without the added work of digging the entire line.
When we're talking about plumbing systems that have been around for many years and are starting to fail, the advice of a trusted plumbing company is the most important thing you can get before you decide on anything else. At Plumbing Care, Inc., we're experts in the task of dealing with old pipes: replacing, repairing and even repiping whole sections if needed.
Although many reasons exist as to why you should repipe old plumbing systems, let us first take a look at some of the symptoms that would lead to this decision.
Call us today to discuss your main line repair/replacement options & financing options currently available.
When Should Repiping Be Applied?
One of the biggest factors when deciding to go ahead with a repiping project is the age of your pipe system. Simply put, old systems tend to have more problems.
There are also other indicators that repiping services would be needed such as having galvanized piping installed that are prone to corrosion, water supply tastes like rust or iron or that leaks are constantly experienced from different parts in the system.
As we look deeper into such problems, it would usually tell us that old pipes tend to rust easily and rusty pipes can lead to inefficient or clogged lines. Leaking consistently can also indicate weathered piping which has deteriorated due to chemicals in the water. One of the biggest signs that a repiping company would be needed is when galvanized piping was installed as these are known to rust quite easily.
What Would Be a Good Repiping Material?
Not that you've started learning about repiping services, the next thing you'd want to know is what material would be ideal for the job.
At Plumbing Care, Inc., we will always provide you with a detailed on-site estimate which will later be emailed to you explaining all the work to be done along with the materials that will be used. Currently we use PEX piping or copper where/when the need is justified.  PEX is a material is made of plastic composite which has started to gain popularity in the market today. PEX will not leak or rust. Copper is beneficial too and we can discuss your options on site.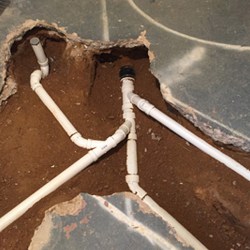 How Does the Repiping Process Work?
When we decide to repipe your entire plumbing system, you can be sure that this procedure will be as thorough as possible. We begin by turning off your water supply because dry pipes are best when working on them. Dismantling the old pipes systematically is the next step, and when that is done, we will begin installing the piping material that you requested.
Not all problems require repiping services, but this can be the most effective solution to solve issues related to old and ineffective piping. Excellent quality repiping services in the East Bay area will let you get rid of the stress that is caused by plumbing issues that keep coming back.
If you're looking for a repiping company that you can rely on, we at Plumbing Care, Inc. got you covered. All of the plumbing and repiping services that you need are simply a call away. If you wish, you can also contact us by sending us a message here on our website. We'd be sure to respond to your message as soon as we can!
Have us contact you today
2415 San Ramon Valley Blvd Ste 4365 San Ramon CA 94583
Mon - Fri: 7am - 7pm
Sat - Sun: 8am - 5pm
plumbingcareinc@gmail.com
**Emergency Services are available 24 hrs with a $175 emergency service fee plus the cost of the service.